I actually wrote this up back in February '06 and never posted it, but after reading Stuart and then Léon's recent blogs, I fugured at add my own on the topic.
10 February 2006–
Today, while I was studying for a marketing test, I became distracted by an idea I had a while back for a "virtual lanlord" service. So I got up, because a good biz idea is a great reason to stop studying, and did some Google'n. Long story short, I didn't find what I was looking for – maybe a good thing for my virtual landlord company – but I did find two services that I think are awesome: Prosper, in the US, and Zopa, in Great Britain, are the only two online marketplaces facilitating person-to-person lending (PLEASE correct me if I am wrong). They remove the bank from the lending/borrowing sequence and take advantage of their countries' Automated Clearinghouse (ACH) to electronically transfer money for free. On the lender's side, I think of it as a "virtual landlord" for leased moneys. It compiles a repayment schedule, tells/reminds borrowers (renters) when to pay, allows them to pay online, and enforces the law (forecloses) when they don't pay; therefore taking the stress off the shoulders of the lender. The above still sounds kinda confusing, check out this Via Prosper's "how it works" page:
"People who need money request it, and other people bid for the privilege of lending it to them. Prosper makes sure everything is safe, fair and easy. Here's how it works: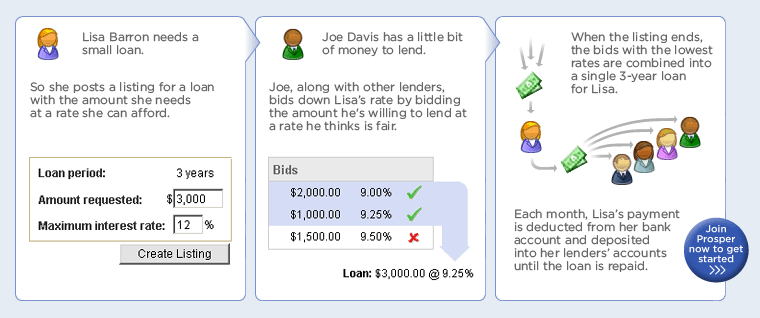 (click image to enlarge)
…and via zopa:
"The markets work just like, well, markets. Lenders put their wares on display; in this case, money they are prepared to lend to other people for a certain length of time. And, just like any market, different vendors may have different prices (otherwise known as interest rates). Some may pick lower rates but only want to lend to borrowers who have a very high likelihood of paying it all back. Others may pick higher rates but be prepared to be more flexible, thereby taking a punt on borrowers who might be slightly more likely to default. Borrowers can then come and have a sniff about, see what the rates are and if they're good value agree to borrow. Because Zopa cuts out the middleman, everyone gets a great deal. … All lenders and borrowers enter into a legally binding contract with their respective borrowers and lenders. Zopa manages the collection of monthly repayments and if any of that money is not paid on time, uses exactly the same sort of recovery processes that the high street banks use. Zopa earns money by normally charging borrowers an exchange fee of 1% and if borrowers take out repayment protection insurance on their loan, receives commission from its insurance provider. Zopa doesn't charge lenders a bean."
What is needed to create this service?
An online marketplace that can effectively and securely connect lenders to borrowers and instill trust in the members of its community.
A system that can dynamically create and disseminate payment schedules and arrangements.
Membership with Collections Agencies, Fraud Prevention Agencies, Credit Reference Agencies (Equifax, etc.).
Registration with the Automated Clearinghouse authority.
What else?
The components above seem attainable, not EASY. Prosper was launched on Feb 5, 06. I truly believe this form of lending is the future, and with only one service in the US so far and one is GB… I think now is the time to give Prosper some competition. I'm not saying that I am going to do this, (well, unless one of you wants to spearhead it with me) but I feel that is it worth discussing.
I would be interested to know if anyone has experience with either of these services? If not, would you use it?